About us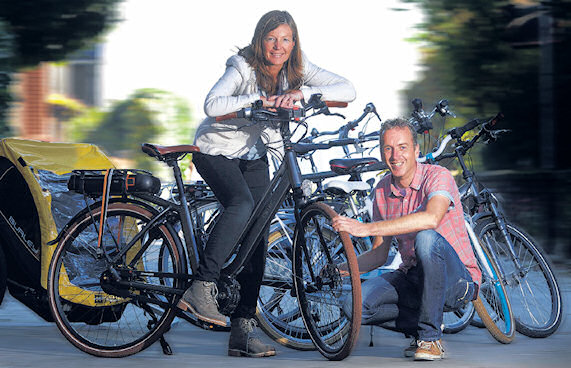 Peter Vos – owner

My passion for maps started as a young child; I read them while others read books, dreaming of landscapes and travelling through them. As a 14-year-old boy, I bought my first road bike and from that moment on I started to explore the Netherlands. I planned the most scenic routes and of course biked them afterwards with my friends. My passion for maps didn't stop, so that's why I decided to obtain a professional degree as land surveyor. Together with Liesbeth, who shared my passion for travelling, outdoor sports and biking, I made great trips in Europe and some abroad on foot, by kayak, cross-country skis and of course by bike. After 20 years of experience as a land surveyor working in all parts of the Netherlands and far beyond, I was ready for a new challenge in life. Tulip Cycling seemed to be the perfect choice in 2010! I make the most scenic routes for our guests in a country which I explored myself all my life with my beloved bike!

Liesbeth van Vulpen – owner

I still remember my first cycling adventure in the early 80s. As a 14 year old girl I cycled, together with my younger brother, the 100 km trip to our parents' summer holiday home. We achieved our goal with just a bag full of sandwiches and a map. I have never forgotten this experience; a whole day of just cycling from A to B, the freedom I felt was amazing. This was the start of many cycling tours that followed, both in the Netherlands and beyond. Although I already had a passion for the outdoors in 1992, the moment I met Peter, I really found a soulmate with whom I could make these dreams come true. I started my professional career in the flower business and was responsible for promoting Dutch flowers in Europe. When, in 2007, we moved as a family from the western part to the more eastern part of the Netherlands it was the moment for me to find a new professional challenge. Alongside my job as a lecturer in Economics at the Windesheim University of Applied Sciences in Zwolle I am responsible for the marketing and back office activities of Tulip Cycling.

The team

Tulip Cycling is a small family business. Besides Peter and Liesbeth we use some professional freelance bike guides. All with a passion for cycling, excellent knowledge of our country to ensure that you as guest have a unique experience while you cycle through the Netherlands.

Tulip Cycling, it's better by bike!