Support
Transporting luggage
We offer you two options for luggage transport:
1. Luggage transport service
If you don't want to carry your luggage on the bike, you can use our courier service for reliable and safe daily, luggage transport. Just leave your luggage in your room or in the hotel lobby and our courier will pick it up after 10 a.m. and deliver it to your next hotel/B&B before 4 p.m.
If you choose the Tulip Cycling luggage transport option a small waterproof pannier, for the storage of small daily items and valuables, is included. If you plan to do shopping along the way or carrying a picnic lunch, you might consider renting an extra small or large pannier.
2. Handlebar bag + panniers rental
If you choose to carry your luggage with you on the bicycle, rent our high-end bags and panniers. Manufactured by Ortlieb and made from ultra- strong Kodra nylon which is water-proof and light-weight. The bags are easy to adjust and remove by way of the patented 'klickfix' system. The size and quantity of bags you require for your tour will depend on your travelling style ('light' or 'heavy'). Remember you can compare the capacity of the panniers with the capacity of your existing luggage. If you have more luggage to carry you can also rent a luggage trailer. If you have extra luggage that you don't want to bring along during your cycling tour, it may remain in our depot; safe and free of charge.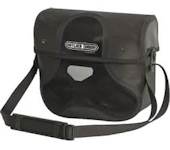 Handlebar bag:
Transparent map holder
Shoulder strap
Capacity : 1.8 gallon / 7 litre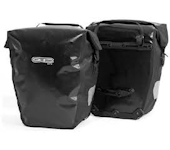 Panniers large (pair):
Cover with adjustable straps
Capacity per pair: 10.6 gallon / 40 litre
Panniers small (pair):
Use as small size rear panniers
Advised as child bike panniers
Cover with adjustable straps
Capacity per pair: 6.6 gallon / 25 litre
Luggage trailer:
By BOB
Light-weight aluminum trailer
Watertight glass-fibre box
Easy to tow, low centre of gravity
Safe and easy to hitch
Capacity: 17.5 gallon / 65 litre
Route guidance
For all our tours we offer the 'best route' itineraries; to discover the hidden gems that others never get to see.
Self-guided tours
We use the most up-to-date and dedicated route support system available to cyclists. It combines the reliability and accuracy of GPS navigation, along with a paper map providing the route overview. The itinerary is based on your personal choices, together with our route manager's comprehensive knowledge of the safest and the most scenic routes.

Your personal daily routes are pre-installed into the easy-to-use lightweight Garmin eTrex GPS device. The GPS adds a totally new dimension to the self-guided touring concept. Taking a wrong turning and getting lost becomes a thing of the past! Garmin has designed very intuitive screen menus and so you certainly don't have to be a computer nerd to operate this clever little device!
Supported and guided bike tours
* For clubs, large families, company outings. *
Our route manager will tailor the tour in close cooperation with your group representative.
Group tour options:
Personal tour guide;
Excursions;
Support vehicle;
Technical assistance;
Deluxe picnics / snack stops.
Breakdown & Insurance
High quality and well-maintained gear means fewer problems, which is better for you and for us. But despite the quality of our equipment, you could be faced with equipment failure. For minor defects that may prevent you from continuing your tour, you can use the toolkit provided or you can go directly to one of the many local bicycle repair shops. In case of major breakdowns that prevent you from using the bicycle altogether, contact our base station at any time of the day. Tulip Cycling is associated with ANWB which is a group of independent bicycle technicians who each work in their own region spread over the whole of the Netherlands. Combined, they form a network of fully equipped mobile workshops for emergency repairs. In the event of a breakdown, the ANWB response time is average 30 to 45 minutes and their 'on the spot repair' success rate is 95%. For the remaining 5% of breakdowns the bike will be replaced as quickly as possible.
You can insure your rental equipment against damage and theft.
View the insurance terms and conditions
.
Tulip Cycling does not offer travel insurance for loss of personal belongings, health problems etc.