Best rental bikes in Holland
The bicycle equipment, together with the routes and accommodation, is one of the most important factors in creating a successful bike tour. We have chosen all the bike rental equipment with careful consideration; only the highest quality and they are all fully adapted to local cycling conditions. Every item has a proven track record regarding performance, reliability and safety. The range of gear is for all ages.
Tulip Cycling supports besides touring bikes; electric bikes, road bikes, tandem bikes and children bikes, all of them of Dutch top quality!
Your bicycle will be prepared for your arrival, taking into account your gender, height, personal requirements and your accessory reservation. A toolkit, tyre repair kit, mini-pump, cable-lock, water bottle and breakdown assistance are of course included in the rental price. Insurance can, if desired, be arranged. Feel free to bring your own saddle and/or pedals; please indicate this on the booking form.
Thinking about bringing your own bike to Holland, instead of renting one of ours? Our experience tells us that air transporting cycles can be burdensome and risky (damages). Besides, your bike might not be best suited to European cycling conditions.
Adult bikes
With their years of experience, our technical staff are very selective when it comes to the quality of our bikes. Our multi-geared adult bikes, gents and ladies models, are manufactured by Koga. Their top-class aluminum hybrid models are built according to our own critical standards and specifications and are the best rental bikes you will find in Holland.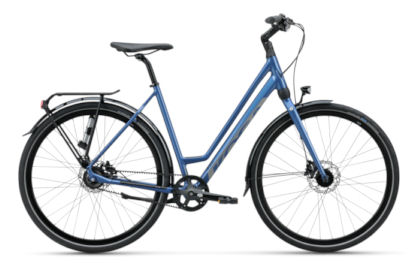 Electric bikes
An electric bicycle, also known as an E-bike, is a bicycle with an integrated electric motor which can be used for propulsion. The electric assistance only complements, and therefore does not replace the necessary human pedaling power. The Dutch company Koga manufactures electric bicycles with a very powerful and silent support, state-of-the-art components and the best performances ever seen.
The Bosch Active Line Plus mid-drive motor offers optimum service life and reliability. The seamless integration of strength, rotation and speed sensors results in a spectacular intuitive support, translated from your driving. The E-bike is provided with 400Wh Li-ion batteries with the longest life cycle available and supports your daily bike trip without any problem. Charging is just necessary at night.
Road bikes
If you are looking for more challenging 'tailor-made' rides covering longer distances (e.g. 100 km per day), our 'Giant' road bikes would be the perfect choice to rent. They are light weight and have either aluminum or carbon frames. Together with high quality Shimano components and different types of cleat pedals, these 'Giant's will help you last the distance.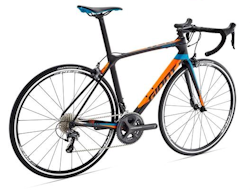 Children's bikes
Tulip Cycling offers a range of bikes and trailers suitable for children of all ages and gender. They are chosen and adjusted to fit each child's cycling ability and for their maximum safety and enjoyment. Your child's bike is selected from within the category below (based on a growth chart and also our own experience) and also your personal requests which you will have made on the booking form.
Any youth over 5'2" / 157 cm tall should get a small adult bike.
| | |
| --- | --- |
| Bike assortment | Age |
| Child trailer | 1-3 years |
| Child seat | 2-4 years |
| Trailer bike/tag along | 4-6 years |
| Follow Me | 7-8 years |
| Child tandem | 3-8 years |
| 20"child bike | 7-8 years |
| 24"child bike | 8-11 years |
| 26"child bike | 11-13 years |
Child trailer and Child seat
Gave up cycling when the kids came along? Enjoy an outdoor holiday for the whole family with this Burley Cub child-trailer. A quality product, made with strong and lightweight materials. This trailer can carry one or two children and is very stable when towing. It has a Quick-release towing attachment. You can combine the trailer with a child seat so you give your child more options to join the ride.
Trailer bike/tag along
Trailer bike, also called 'slipstream' or 'tagalong'. One-wheel bike which had the front end attached to the adult bike. The natural step towards independent cycling and an invaluable way to share the joy of cycling with your child. You're in control while they're safely on their own bike behind you.
Child bike with FollowMe tandem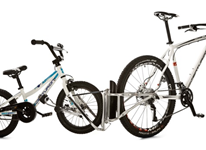 The FollowMe is a parent/child tandem. You can quickly attach your child's bike (20") to your own bike according to traffic situations or if they become tired. The clever tandem hitch lets you react quickly to changing situations, without the need for tools!
Child tandem
The children sit in front on this tandem so they have a great view and quickly get a feeling for cycling in traffic. The front drivetrain operates independent so the children can pedal if they like.
Child bike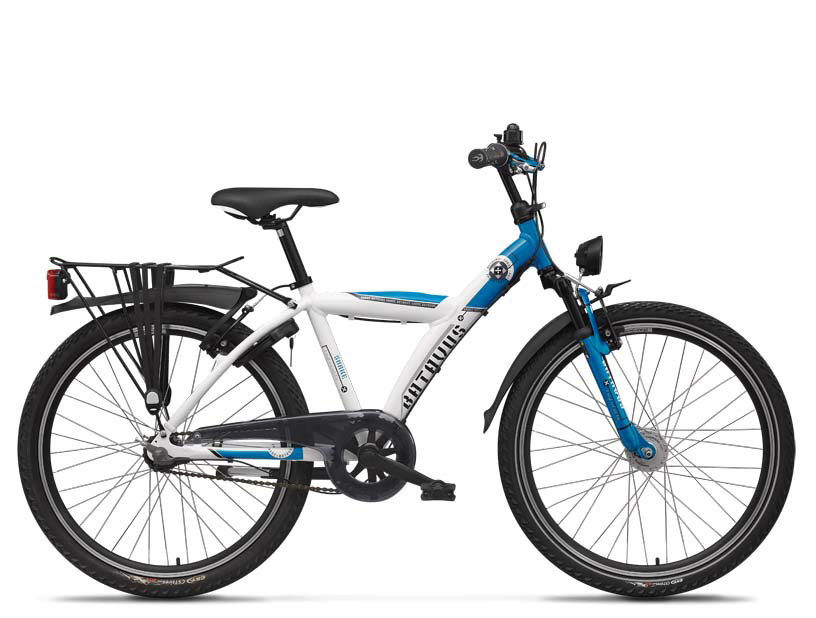 Safe, sturdy and easy to handle. Meeting all safety standards and best according to the experts and children!

Offered in three sizes:


20" wheel - 7-8 years
24" wheel - 9-11 years
26" wheel - 11-13 years
Helmet
For some people it is hard to believe that, with the exception of racing-cyclists, most Dutch people (including children) cycle without a helmet. Bicycle lanes and paths are safe and motor traffic gives a lot of consideration to bikers. Tulip Cycling however fully respects your choice to wear a helmet. Bring your own or rent one of our TÜV tested helmets.
Light-weight
Three adult sizes (S/M/L)
Two children sizes
Back secure system
Poncho
You could get caught in an occasional rain shower, even in the summer. That's why Holland is so fresh and green. So it is always advisable to take a rain-jacket with you, or you can rent one of our practical light-weight and strong nylon rain capes. 100% wind and waterproof. Including hood and integrated 'stowaway' cover.
We always provide a small toolkit, a tyre repair kit, a mini-pump, a water bottle and a cable-lock with all the rental bikes.
For information about our breakdown service please view the Support chapter.