The Netherlands is a cycling paradise!
If you are looking for a custom cycling holiday in the Netherlands, then Tulip Cycling is more than happy to provide you with all the information you need. The Netherlands, also known as Holland, is a cyclist's dream. There are endless kilometres of paved bicycle paths and on the flat terrain, cycling is enjoyable, relaxing and very safe for both experienced and non-experienced cyclists of all ages. This makes it the perfect mode of transportation to visit the many highlights our country has to offer.
Visit beautiful places during your custom cycling holiday in the Netherlands
When you opt for a custom cycling holiday in the Netherlands, you can visit both beautiful, bustling towns as Amsterdam as well as the calm and relaxing landscape. During your bike tours in the Netherlands, you will be able to see the Dutch Masters in one of the many world-class museums, cycle by calming waterways to the most beautiful mills, sleep in historical cities, take a look in the national parks or smell the fields of tulips during spring. Doesn't the Amsterdam countryside bike tour sound like the perfect custom cycling holiday?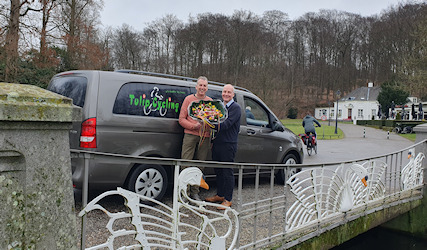 Peter and Pieter with a large bouquet of tulips to celebrate the new partnership.
Exciting news about Tulip Cycling
Peter Vos, with the support of his wife Liesbeth van Vulpen, established an outstanding reputation for Tailor-Made and Ready-to-Go cycling tours in Holland. To maintain the high standards so many cyclists have already enjoyed, and to help manage growing demand, Peter and Liesbeth secured the backing of a new partner for Tulip Cycling, Pieter van der Schee.

Peter will continue to be very involved in the company and will work with Pieter, who shares his enthusiasm and passion for the beautiful cycling paradise of the Netherlands. With so many attractions waiting here in the spring and summer seasons, the pair are looking forward to welcoming you in the Netherlands for an exceptional cycling tour this year.
Tulip Cycling Tours in Holland
At Tulip Cycling, we specialise in creating individual bike tours in the Netherlands. Our unique concept can be enjoyed in two ways. You can either choose to get a high level of input into planning your own tailored bike tour or go for one of our well-balanced Ready to Go tours. The self-guided Ready to Go bike tours strike a perfect balance between town and non-urban area. We have chosen the most scenic bicycle routes the Low Countries have to offer. Each of the tours provide a taste of the history and culture while you visit beautiful cities and lovely natural settings. To select the bike tours of your choice, you can use the Tour finder.
Custom cycling holidays in other countries, like Belgium
Tulip Cycling also offers tailored bike tours in other countries than the Netherlands. You can for instance book a Belgium bike tour. This tour explores some of the finest Belgian cities like Bruges, Ghent, Antwerp or Brussels by bike.
Take the whole family along on one of our tailored bike tours through the Netherlands
Would you like to take the whole family on an unforgettable custom cycling holiday in the Netherlands? Then you should book a family bike tour. We even offer special equipment to help make these tours a success together with your children.
A cycling tour with a hotel stay for added comfort
For those who want a more luxury bike tour, we offer bike tours with hotels along the route. This allows you to rest more comfortably, which helps you recharge even better for the next day of cycling.
Go on tailored adventures
If you would like to create your own unique tailored bike tour to meet all your wishes, we as experts will work with you. We will create your very own tailored bike tour. Make your dream tour with our help! Use the tailor-made tours button to receive our initial proposal. We will then work on it together until it is perfect. The proposal is based on your selected preferences. You can choose the support level, the tour duration, the start and finish dates and places and you can select one of our distinctive bike tour themes.
The roadmap of the perfect cycling holiday
Your Tulip custom cycling holiday starts with a personal orientation. We go through the route book and do a bike fitting. Our cycling gear is always of the highest quality and the route support is thoughtfully put together to suit all your needs. Tulip Cycling will also introduce you to the best characterful accommodation on your route according to your preferences and budget for your custom cycling holiday.
Create your best personal holiday
We will help you put together the perfect custom cycling holiday in the Netherlands. We're the cycling experts of the Netherlands, we're Dutch and it's in our DNA to create the best bike tours for you.
"Happiness is not in arriving at your destination, but in your way of travelling there"
Our most popular Ready to Go cycling tours